Money has never made man happy, nor will it, there is nothing in its nature to produce happiness. The more of it one has the more one wants.

Benjamin Franklin

Money does not lead to happiness;The Gift Of The Magi by O.Henry is about a girl who is struggling for money, but wants to buy a present for her husband. O.Henry seems to imply in The Gift Of Magi that even if you can not afford something nice the only thing that counts is the thought. Bella and Jim are two poor lovers who are struggling in life. They live in an eight dollar flat that they can barley afford. It was winter time and Bella wanted to buy a gift for Jim but she had no money because Jim only makes twenty dollars per week. I felt that that this piece spoke to me in the sense that there are people struggling in the world. Not everyone has the chance to go to a nice school like Fenn and not everyone has the money to afford nice things. Money might not buy happiness but it could help someone in need and I feel that we all should think about how we sometimes buy unnecessary items. Money can't buy happiness, but it is still needed.

Powered by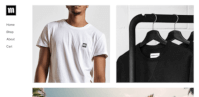 Create your own unique website with customizable templates.